The Urgent Need for Battery Materials in Europe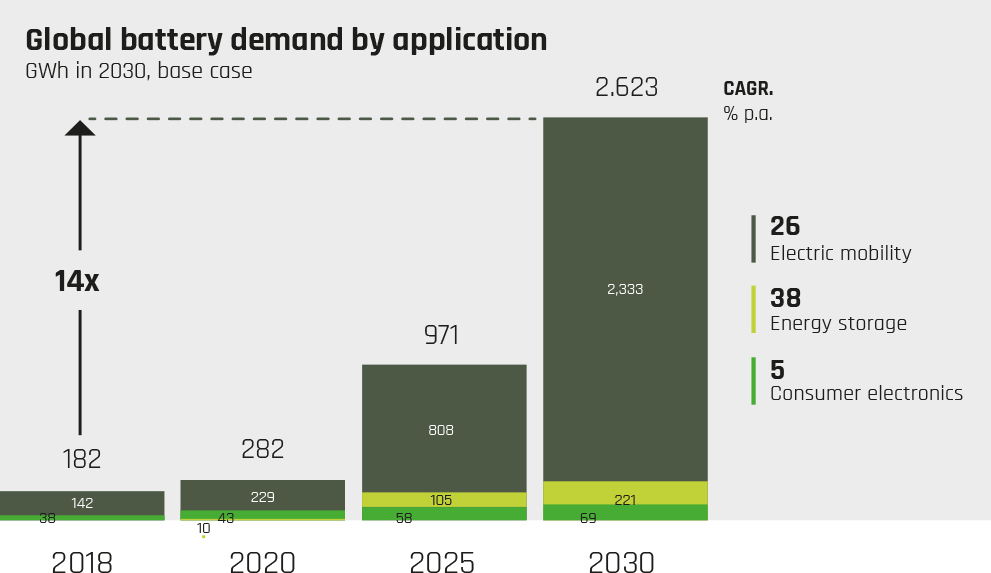 As attractive energy storage technologies, Lithium-ion batteries (LIBs) have proven to be a reliable solution, especially when it comes to the production of low-emission fleets (electric vehicles), followed by stationary storage market and consumer electronics. By 2030, the global demand for LIBs is estimated to increase 14 times and the EU could account for 17%. As of 2030, the battery production in Europe is expected to rise to 300 GWh/year.
According to an estimation presented by the Strategic research Agenda for batteries, the annual production of LIB will require:
270 000 tons of battery grade graphite
30 000 tons of silicon for the anode
225 000 tons of Class 1 high purity nickel (Ni)
29 000 tons of cobalt (Co)
84 000 tons of manganese (Mn)
59 000 tons of lithium (Li) for the cathode
Europe is currently dependent on imports amid growing demand for materials required by the production of LIBs. Moreover, the extraction process of such materials usually comes with an environmental impact.
In 2020 the Strategic Research Agenda for batteries released the European Commission's vision for 2030, which places Europe as the first recycler of LIB raw materials (i.e., all the important raw materials imported for the production or installation into batteries will be collected and processed in Europe to recover the material without downcycling when technically, economically and environmentally beneficial).
Rhinoceros's contribution to the European raw materials independency
The development of closed loops in critical raw materials (CRMs) is required to secure their supply after the ramp-up phase of the battery market, mainly by the electric automotive industry and stationary applications. Currently depending on imports for LIBs production, Europe needs innovative technologies that will recycle not only CRMs , but also, whenever possible, all cells components, thus increasing sustainability.
The RHINOCEROS project proposes novel technologies for the recycling and production of high-performance and low-cost battery materials targeting high recycling rates, materials' purity, low carbon footprint and increased scalability potential.